INVITATION

The Aero Club of Italy, ACAME and FIAM® invite all FAI members to participate in the 2019 FAI F3A WORLD CHAMPIONSHIP FOR AEROBATIC MODEL AIRCRAFT.
The event will take place from August 3 to August 10, 2019. (Opening and Closing Ceremonies).
ORGANISER AND LOCATION

The World Championship will be organized by the Organizing Committee of ACAME (Aero Club Aeromodellistico Milano Est ), together with AeCI (Aero Club of Italy) and FIAM® (Fabbrica Italiana Associazioni Modellistiche).
The event will be held in Calcinatello di Calcinato (BS), at the model aircraft flying field called "Casa Bianca" which has two parallel flying fields positioned at a distance of over 500 meters from each other. "Casa Bianca" is located 15 km from the shore of beautiful Lake Garda, 10 km west of the city of Brescia, 90 km from Venice.
The field elevation is 171 meters above sea level
(GPS coordinates: 45°27'54" N 10°20'52" E)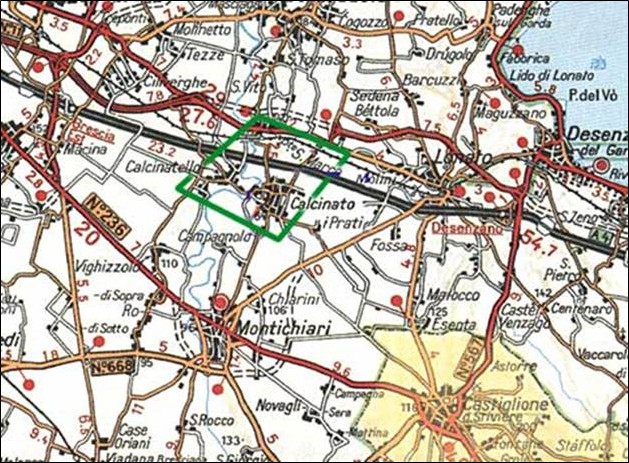 By car:
from the North – Highway A4 – exit Brescia Est
Casa Bianca 5 km. away (*)
By plane:
Orio al Serio Intern. Airport (Bergamo) (BGY) 60 km
Villafranca Intern. Airport (Verona) (VRN) 40 km
Linate Intern. Airport (Milan) (LIN) 110 km
Malpensa Intern. Airport (Milan) (MXP) 140 km
Montichiari Airport (Brescia) (VBS) 10 km
(*) After the Brescia Est motorway toll booth, take the route to Montichiari, drive over the motorway , follow the "Casa Bianca" and "CdM F3A" signs. After the bridge, turn right and follow the "Ciliverghe" sign. Cross the roundabout and, after the Stop sign, turn left and continue to follow the "Casa Bianca" and "CdM F3A" signs. Drive across the bridge, turn right and keep following the above signs until you reach the Casa Bianca restaurant.
WEATHER INFORMATION

Average weather conditions in Lombardia during August and September are as follows:
Average min. daily temperature: 18° C
Average max daily temperature: 32° C
Average Wind speed: 1.2 m/s
SOME PICTURES OF THE CASA BIANCA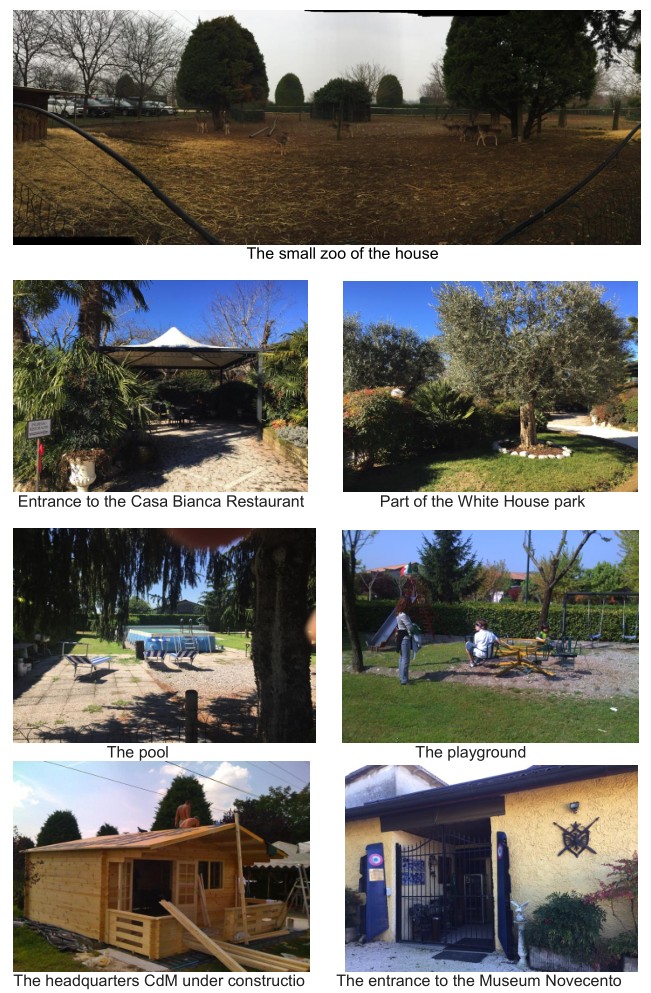 CLASS
F3A – RC Aerobatic Aircraft
RULES
The World Championship will be run according to:
FAI Sporting Code General Section
FAI Sporting Code Section 4 Aeromodelling CIAM General Rules Volume 2019 Edition.
FAI Sporting Code Section 4 Aeromodelling Volume F3 Radio Control Aerobatics 2019 Edition.
FAI Code of Ethics.
FAI Anti‐Doping Rules.
ANTI-DOPING
If a competitor has to take, for medical conditions, any of the substances listed on the WADA Prohibited List, he must have a Therapeutic Use Exemption (TUE) approved by FAI which will issue the TUE Certificate. Since the Prohibited List is not updated regularly by WADA, it is recommended to review the full section for Anti‐Doping in the FAI Web site, from time to time.

https://fai.org/antidoping.

You will find all the necessary information and more.
FAI SPORTING LICENCE
Each competitor or team manager must possess a FAI Sporting Licence valid for 2019 and especially for the period of the event. The competitors and the Team Managers shall be listed in the FAI Sporting Licence database. The unique FAI ID number shall be provided at the time of registration.
Necessary information can be found at the following link

https://fai.org/sporting‐licences

The holder of a FAI Sporting Licence may be required to present an official document bearing his photograph and signature as proof of identity.
PROTESTS
All protests must be presented in writing to the Contest Director at the competition site, and must be accompanied by a protest fee of € 50.00. The protest must clearly state which rule or procedure/process in the Sporting Code was not followed or was violated, and what compensation is expected. The protest fee is refundable if the protest is upheld by the FAI Jury: Please note that a protest is usually the last resort, if no satisfactory result has been obtained after an inquiry, then an official complaint is issued. Please review FAI Sporting Code General Section and CIAM General Rules.
OFFICIAL LANGUAGE
Official Languages are English and Italian
SCORING SYSTEM
Notaumatic, by MR. Roland Poidevin, (same as used at the 2017 F3A World and 2018 F3A European Championship).
Live scoring and live results on the Website will be possible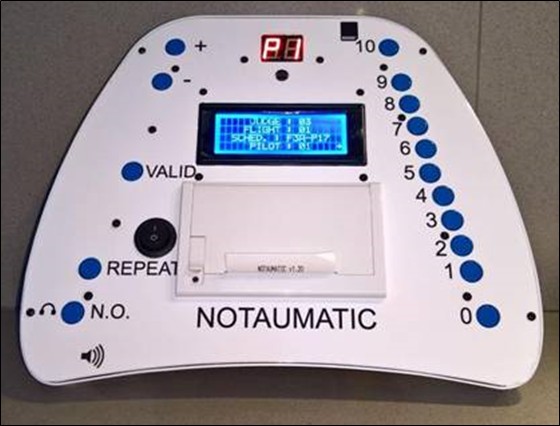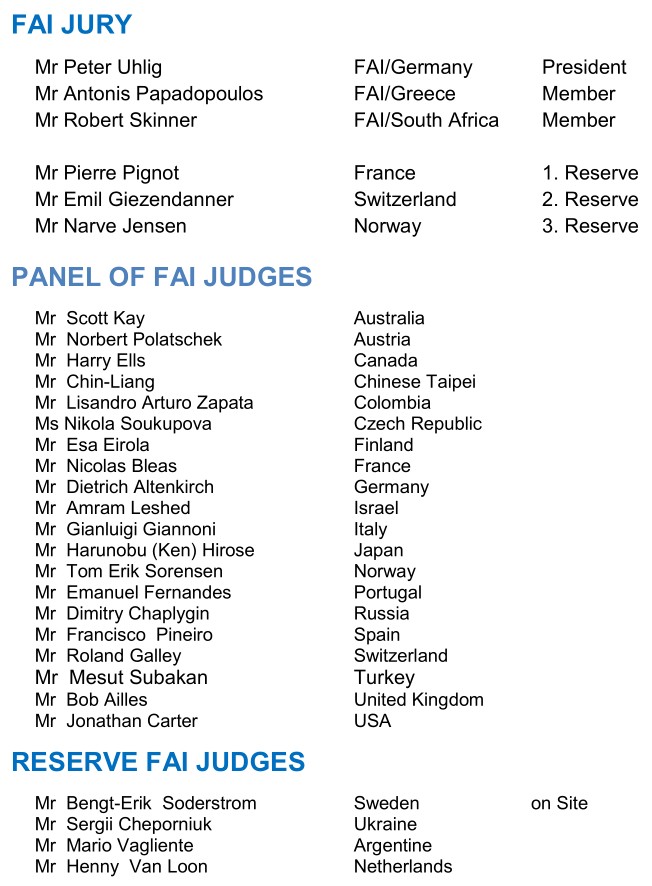 COMPOSITION OF A NATIONAL TEAM
Every FAI affiliated National Aero Club (National Airsport Control Organisation) in the all Region as defined by FAI Sporting Code, Sec 3.5.4 may enter a team consisting of:
A Team Manager
A maximum of four competitors provided that the fourth one is a junior (A competitor is considered to be a junior up to and including the calendar year in which
he attains the age of 18. All other competitors are classed as seniors.)
Official helpers and Supporters
The reigning Senior World Champion Mr Tetsuo Onda (JPN) and the reigning Junior World Champion Mr Joseph Szczur (USA) have the right (subject to the approval of their NACs) to participate regardless of whether they qualify for the national team or not. If they are not members of the national teams, their score will not be considered in the team results.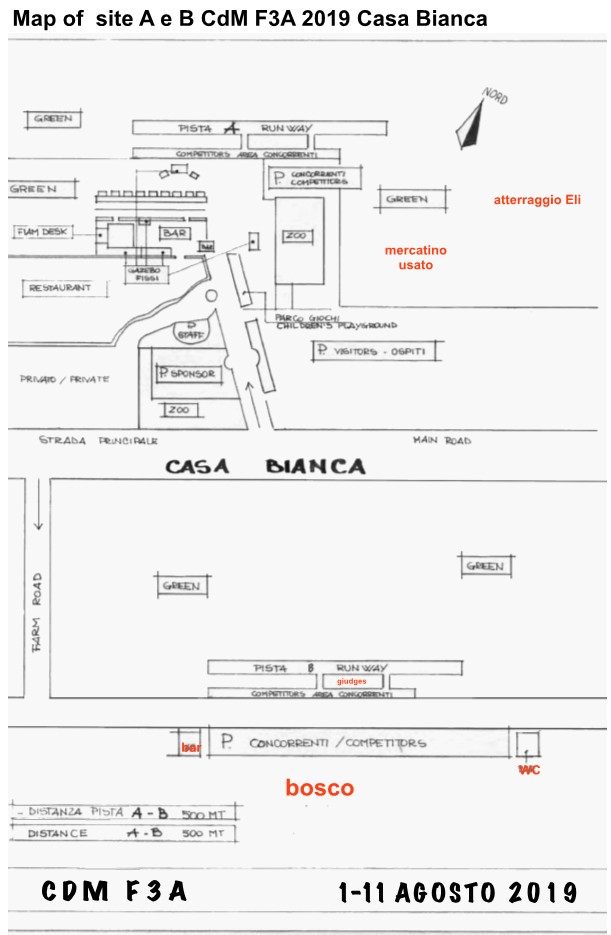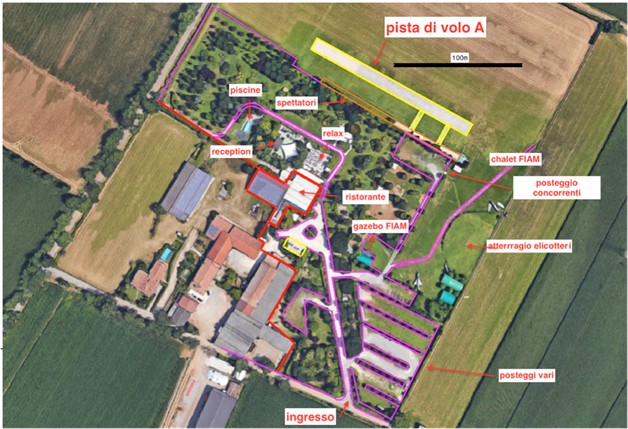 CONTEST MANAGEMENT

Chairman CdM F3A 2019 and Director CdM for NAC AeCI
Vice Chairman
Administration
Paola Battaini
Isabella Cornaggia
Rosanna Filippi
Elaine Moore
Contest Director
Management site A and B
Enrico Ornaghi
Luca Giannini
Franco Antognazza
Manrico Mincuzzi
Processing Director
Angelo Silvagni
Enrico Lauricella
Andrea Vaccari
Hostes of the judges
Scoring System
Roland Poidevin (France)
Marie Elene Poidevin (France)
Andrea Coppola
Marco Neri
Warm-up flight
Armando Leidi (Italy)
Tinturier Jean Louis (France)
Logistics site A and B
Franco Chistè
Remo Dalpra
Lorenzo Maurina
Eros Versini
Marco Casagrande
Luciano Zanchi
Desk FIAM
Annalisa Chistè
Linda Chistè
Laura Chistè
LUNCH
Lunch will be provided at the excellent, natural-food "Casa Bianca" restaurant and will include self-service vegetables, appetizers, a choice of two courses, a choice of two second courses, dessert, Italian wine, water, Italian coffee.
The price is €15,00 per day per person, €110,00 for 8 days (August 3 to August 10) per person
Vouchers can be purchased at the organizers' desk. Several restaurants can be found less than 15 km from the airfield. Price for dinner ranges from €15.00 to €80.00 per person.
TIME SCHEDULE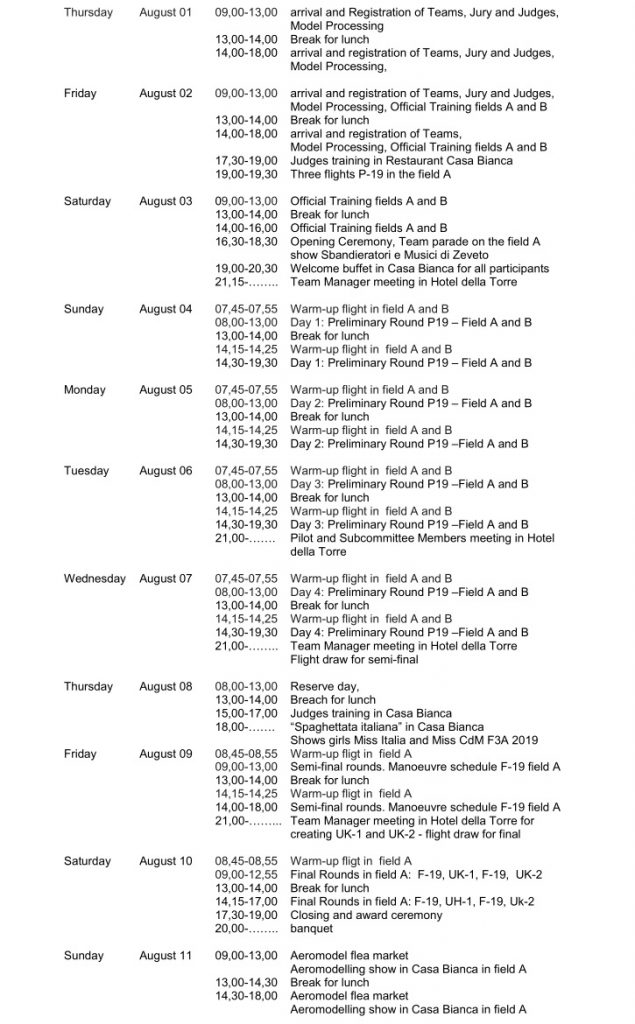 TRANSPORTATION OF BOXES
The model boxes may be shipped to Casa Bianca, at the following address: "Ristorante Casa Bianca via Campagna 6 – 25011 Calcinatello (Bs) tel. +39 030 996 9661 (Mr. Fiorenzo Stagnoli).
The boxes will be stored in special spaces up to the end of the Championship.
CLASSIFICATION, AWARDS and TROPHIES
Individual classification
FAI medals and FAI diplomas will be awarded to the competitors placed first, second and third.
For the additional Junior classification, FAI medals and FAI diplomas will be awarded to the competitors placed first, second and third. In order to award the title of Junior World Champion, junior competitors from at least four nations must participate.
Team classification
FAI medals and FAI diplomas will be awarded to each member (including the fourth team member when appropriate) and the team manager of the teams placed first, second and third.
Awards
1st , 2nd , 3rd Individual winner
1st , 2nd , 3rd Junior winner
1st , 2nd , 3rd Team winner
Team classification
Individual Champion: "King of Belgians Trophy" (current holder Mr Tetsuo Onda Japan)
Team Champion: "MAP Trophy" (current holder USA Team)
Junior Champion: "Floating Trophy" (current holder Mr Joseph Szczur, USA)
DEADLINES
All entry and banquet fees must be received by the organisers not later than May 30, 2019, together with the Final Entry Form and must be free of transfer costs and bank charges (all costs are for the senders account). The bank details appear near the end of this Bulletin. Entries received later than this date are subject to a 20% penalty on the entry fees (banquet fee not affected). Any entry fee submitted more than 30 days after May 30, may be refused by the organizer.
Entry fees will not be accepted on site upon arrival except exceptional circumstances and with prior written agreement from the organiser. If a competitor or team withdraws from the World Championship after having paid the entry fees, a refund will be considered only in case of force majeure or exceptional circumstances.
ENTRY FEES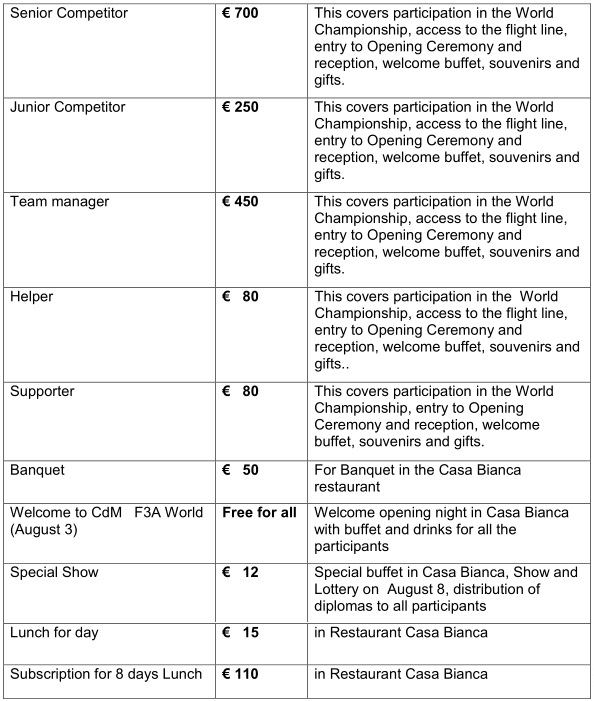 LODGING AND FOOD
Several Hotels and B&Bs are located a few kilometres from "Casa Bianca" – Calcinatello (BS):
Hotel della Torre 1850*** Strada Statale 11 Padana Superiore, 33 – Ponte San Marco (BS)
10 km from Casa Bianca
www.hoteldellatorre1850.it
(reserved for Jury, Judges and Organizers)
Hotel Garda**** Via Brescia 128 – 25018 Montichiari (BS)
10 km from Casa Bianca
http://www.infogardahotel.it
Price per night: double room/B&B €. 105.00 ~
Hotel Majestic House**** Via Brescia, 49 – 25014 Castenedolo (BS)
http://www.majestichouse.it/
Price per night: double room/B&B €. 120.00 ~
Hotel Blu Brixia**** – Via Sandro Pertini 10, 6 25014, Castenedolo (BS)
http://bluhotelbrixiacastenedolo.h-rez.com/
Price per night: double room/B&B €. 100.00 ~
Hotel Armida *** Castenedolo (BS)
www.hotel-armida.it
Price per night: double room B&B €. 50.00~
Hotel La Pina *** Rezzato (BS)
www.lapina.it
Price per night: double room/B&B €. 70.00 ~
PARKING
Several car parks will be available in the Park of Casa Bianca. These have boards indicating the type of car that can be parked and the indications must be respected. The car-park Pass must be displayed in a clearly visible position inside the car. Car Passes can be collected at the model processing desk and are Free.
INSURANCE
The organizer will provide a third‐party liability insurance covering all competitors for model accidents involving injury to others and damage to property. This insurance will also cover injury to others and damage to property or people by accidents caused by the organizer or staff members during the Championship period.
It is highly recommended to purchase individual health coverage as well as travel insurance before arrival in Italy. For EU citizens, health care is covered by the Italian Social Health Care on presentation of an EU 11 form, issued in the country of residence.
Citizens from outside the EU should provide for their own health insurance to cover illness and travel insurance.
All further insurances (health, general and driver's liability, flying out of context of the event, legal expenses etc.) must be taken out by the team managers, pilots, helpers, supporters and spectators.
The organiser is not responsible for any kind of personal injury, loss, theft or damage to people or property during the contest and the journey and stay in Italy.
Insurance coverage required by CIAM/FAI for each participant in the 2019 F3A World Championship shall not be valid if the competitor practices on an airfield that is not one of those indicated here below.
FREQUENCIES
According to the rules, only 2.4 GHz spread spectrum radio control systems are allowed (output power up to 100 mW according to EN 300 328 Standard).
MODEL AIRCRAFT SPECIFICATIONS CERTIFICATES
According to Section 4 – Aeromodelling CIAM General Rules C.11.1 and C.12 Model aircraft, shall carry:
The national identification mark followed by the National FAI licence number or the FAI Unique ID number. The letters and numbers must be at least 25 mm high and appear at least once on each model.
Model identification code (letters and/or numbers) : This code has to be different for each nominated model aircraft of the competitor. The model identification code shall appear on each main part of the model (wing(s), tail, front and rear fuselage if detachable) so that the individual parts of a competitor's different models may be separately identified. The letters and/or numbers must be at least 10 mm high and clearly visible. The identification code of the nominated models must be recorded on the Model Aircraft Specification Certificate.
For the World or Continental Championship, each NAC shall process every model and shall issue a Model Aircraft Specification Certificate, provided by FAI for each model aircraft. A sticker, also provided by FAI, or marking with the pattern of this sticker, shall appear on each model.
Each competitor must present a correctly completed FAI Specification Certificate for each model aircraft entered in accordance with the Sporting Code. Specification certificates must be signed and stamped by the National Airsport Control Organisation.
Model aircraft which are not properly processed by their NAC, with FAI certificates and stickers, must be processed by the organiser at a cost of 8 Euro for each model.
STOP FOR LUNCH
We wish to inform all concerned that the competition will be interrupted every day from 1 p.m. to 2.30 p.m. and during that time interval, Ristorante Casa Bianca will be open, exclusively for the participants, who will have access only if they have their 2019 F3A WC pass and restaurant vouchers purchased from the organizers
PRACTICE SITES
Seven practice sites will be available around the World Championship area, within a distance of about 60 km. These are:
1) City of Gussago (BS) – Località "La stacca"– 33 km. distance – Gruppo Aeromodellistico Franciacorta (GAF) – grass track
Please contact Mr. Massimiliano Tedoldi – tel. + 39 347 2462144 e.mail: cicomax@alice.it
GPS Coordinates: 45° 34' 00" N 10° 00' 00" E
2) City of Villafranca (VR) – Località Prabiano – 52 km. distance – Associazione Amici Aeromodellisti 3A Verona (AAA3A) – grass track – Please contact Mr. Bruno Cascio – tel. + 39 336 358002 – e.mail: cascio.bruno@gmail.com
GPS Coordinates: 45°354562 N 10° 794975 E
3) City of Calvagese (BS) – 10 km. distance –
Gruppo Aeromodellistico Villanovese (GAV) – grass track Please contact Mr. Diego Ziliani – tel: + 39 393 9781861 – e.mail: ziliani.diego@libero.it
GPS Coordinates: 46° 31' 5" N 10° 27' 15" E
4) City of Castel Goffredo (Mn) – 50 km. distance – Località Poiano – via Santa Maddalena – grass track
Please contact: Mr. Michele Zamboni – tel. + 39 339 5617434 – e.mail: commerciale@sorvolandocompositi.it
GPS Coordinates: 45°19'07.4″ N 10°25'57.7″E
5) City of Caprino Veronese (Vr) – Località Pesina Montesei – 50 km. distance – Gruppo Aero Modellistico Garda (GAMG) – grass track
Please contact Mr. Massimo Azzali – tel. + 39 347 4220240 – e.mail: azzali.massimo@gmail.com
GPS Coordinates: 45° 5889732 N – 10° 7585502 E
6) City of Ghisalba (Bg) – località Basella – 50 km. distance – Gruppo Aeromodellistico Bergamasco (GAB) – asphalt track
Please contact Mr. Andrea Vaccari – tel. + 39 329 3798789 – e.mail: andrea@gabonline.it
GPS Coordinates: 45° 36′ 06.95″ N 9° 44′ 18.33″ E
7) City of Buttapietra (Vr) –via Feniletto 1 – 55 km. distance – Il Feniletto Jets and Friends – grass track
Please contact Michele Morosato tel. + 39 339 6881584 – e.mail: morosato.michele@gmail.it
GPS coordinates: 45° 20′ 08.0″ N 11° 01′ 53.0″ E
GLOW ENGINES FUEL
The fuel for glow engines can be purchased during the World Championship
ELECTRICITY
At Casa Bianca, due to technical reasons and safety, the electricity sockets cannot be used for the battery chargers for the batteries of the model aircraft.
Electricity in Italy is 220V and these are the plugs and sockets that can be used:
COURTESY SERVICE AND ACCOMPANYING ARRANGEMENTS FOR THE JUDGES
We have organized a courtesy service and accompanying arrangements for the judges.
TOILETS
In the Casa Bianca restaurant there are 4, one of which is for handicapped subjects, as we have already mentioned previously
Please also note that on runway B there will be 2 mobile chemical toilets with hand wash ability.
These will be in use from Saturday August 3 to Thursday August 8, and they will be cleaned and checked daily by a specialized company, however cleanliness will also depend on the courtesy and manners of our guests.
MEDICAL FIRST AID
The staff of the first aid Ambulance, call 118, which will be present on site all the days of the competition, from 8 a.m. to 7 p.m., will be off duty every day from 1 p.m. to 2.00 p.m., consequently the two runways will be closed for all flights during this interval.
RENTING A CAR
Car and van rentals are available from all international companies as well as from some local operators in the city of Brescia, and in all international airports: Linate (province of Milan), Malpensa (province of Varese), Villafranca (province of Verona), Orio al Serio (province of Bergamo) and Montichiari (province of Brescia).
VISA REQUIREMENTS
For citizens from some countries outside the EU, a VISA may be required to enter Italy. For more information, please enquire with the Italian consular office in your own country.
REGISTRATION OF THE NATIONAL TEAMS
Only the team-manager will carry out the team registration on the airfield.
The TM needs to bring the following:
• Copy of bank payment receipts.
• Two national flags (approx. 1 m x 1.5 m).
• CD or USB stick with the national anthem in MP3 format
• A list of the team members with FAI IDs
Model Aircraft Specification Certificates will be required for processing.
CAR PARKING AREA FOR CAMPERS AND TRAILLERS
In order to facilitate the presence of the Teams and the spectators coming from far off, the Organizers, in agreement with the Casa Bianca owners, have reserved a space for parking campers and trailers in the Casa Bianca park.
Those who will make use of this parking area must note that after 11 p.m. the gate that allows access to the Casa Bianca park will be closed and no vehicles or persons will be able to leave or enter, and also the restaurant and the bar will be closed.
It must be noted that all this has been arranged solely for this particular occasion, and therefore the area will not be lit up nor provided with any facilities, and the owner of the park will not ask for any fee for parking in this area.
On the other hand Casa Bianca hopes that those staying in these vehicles will at least use the restaurant and the bar in the premises.
IMPORTANT ADVERTISING
No advertisements regarding model aircraft products, or other, with reference to the World Championship, personal or other, shall be permitted or shown even indirectly at Casa Bianca, unless prior explicit authorization is given by the Organization.
COLLATERAL ACTIVITIES
On the occasion of this F3A World Championship, FIAM has organized a series of collateral activities dedicated to all those who are present in Calcinatello, be they competitors or spectators, as for example the Administration Information Desk in the area which is used for dancing in summer, where the participants also complete their registration.
The "services and gadgets sales point" is located in the blue inflatable FIAM stand near the entrance to runway A, and is managed by the twins, Laura and Linda Chistè.
For Saturday 10 and Sunday 11 August we have also arranged a special area for young spectators, where our instructors will help them construct small balsa wood models, "Balsetta" which are produced and offered by FIAM free of charge.
Furthermore we have also organized the market for the sale of second hand model aircraft material, on Sunday 11 August in the area adjacent to the tourist helicopter helipad, which will act as a backdrop for the spectacular show of model aircraft during the whole day.
BANK ACCOUNT FOR PAYMENTS
• FIAM FABBRICA ITALIANA ASSOCIAZIONI MODELLISTICHE
• BANK: UNICREDIT BANCA
• ADDRESS: 20154 MILANO – P.ZZA GAE AULENTI, TORRE A
• IBAN: IT09F 02008 09448 000104127337
• BIC SWIFT UNCRITMM

Communication : WC 2019 Team xxxxxx
(where xxxxxx indicates the country name )
Bank charges payable by the payer
CORRESPONDENCE
Tel.: +39 02 62694268, +39 02 62910526
Fax: +39 02 6552352
e-mail: paola@fiamaero.it, segreteria@acame.it
pec: fiam@pec.fiamero.it, acame@pec.acame.it
Website: www.fiamaero.it, www.acame.it
Free Welcome buffet
Saturday, August 3 at 7 pm, after the Opening Ceremony, the team parade, the show of majorettes and the band, FIAM® invites al participants (FAI Jury, Judges, Competitors, Team Managers, Helpers and Supporters) to the "Welcome Buffet" in the park of Casa Bianca to enjoy drinks and snacks arranged by the Stagnoli family.
The Welcome buffet is offered to all participants who have been accredited by the organizers.
Location of the banquet in the "Casa Bianca" restaurant
The closing competition and awards ceremony will take place on Saturday
August 10, with a Banquet and a Show in the Casa Bianca Restaurant.
The restaurant has a capacity of approximately 300 covers and in order to access the Final Banquet, the Ticket for the same must be presented to the person in charge.
Thursday, August 8 (6p.m.)
A special evening has been planned by the organization for all the participants
Special buffet in Casa Bianca, Show, Lottery on August 8 for FAI Jury, Judges, Team Managers, Competitors, Helpers, Supporters, Organizers.
There will be a parade and a personalised show with 10 beautiful young Italian girls selected in the previous competitions, who will participate as representatives of the Lombardy region, in the final national election of Miss Italy 2019.
A jury of aeromodellers, selected at random for the occasion, will choose Miss F3A 2019.
During the evening, all those present will have the opportunity of tasting the classic Italian pasta, spaghetti, together with a drink of their choice, at the price of € 12.00 per person, which also includes participation in a special lottery with rich prizes from the aeromodelling sector.
Anyone who would like more lottery tickets can purchase them during the evening at a cost of € 2.00 each.
On this occasion, Participation Diplomas will be distributed to the Teams and to all the competitors.
Wi–FI
Free Wi-Fi will be available in Casa Bianca. The password will be communicated by the organizers at the time of registration.
PRESS
• Representatives of specialist magazines are welcome in Casa Bianca and will, upon receiving the PRESS pass issued by the organizers, be able to position themselves in the designated PRESS box on the Championship site.
• It is mandatory that all interested PRESS present their credentials to the organizers before July 30, 2019, by filling in the appropriate form attached to Bulletin 4, and wait for the necessary authorization and confirmation.
• Should the registered press representatives wish to take advantage of the services given to contestants, team managers, helpers and supporters, they will have to enrol in the same way, by filling in the normal registration form.
• Each accredited press representative shall also forward a colour photograph, jpg format max 300 dpi, to the organizers, together with the registration form
• Each accredited press representative will receive a special customized Pass for access to the areas that are reserved for taking photographs and carrying out interviews.
• Each accredited press representative will receive a free ticket to take part in the evening on Thursday August 8, and one to take part in the banquet on Saturday, August 10.
ON LINE REGISTRATION ON WEB SITE
In this way only the Team Manager will access and fill in the electronic information forms using a link which we will provide the Team Manager with separately. In this way it will be possible to enter all the data regarding the pilots and their models, besides a photograph and their signature, as required by the privacy policy.
LIST OF REGISTERED COUNTRIES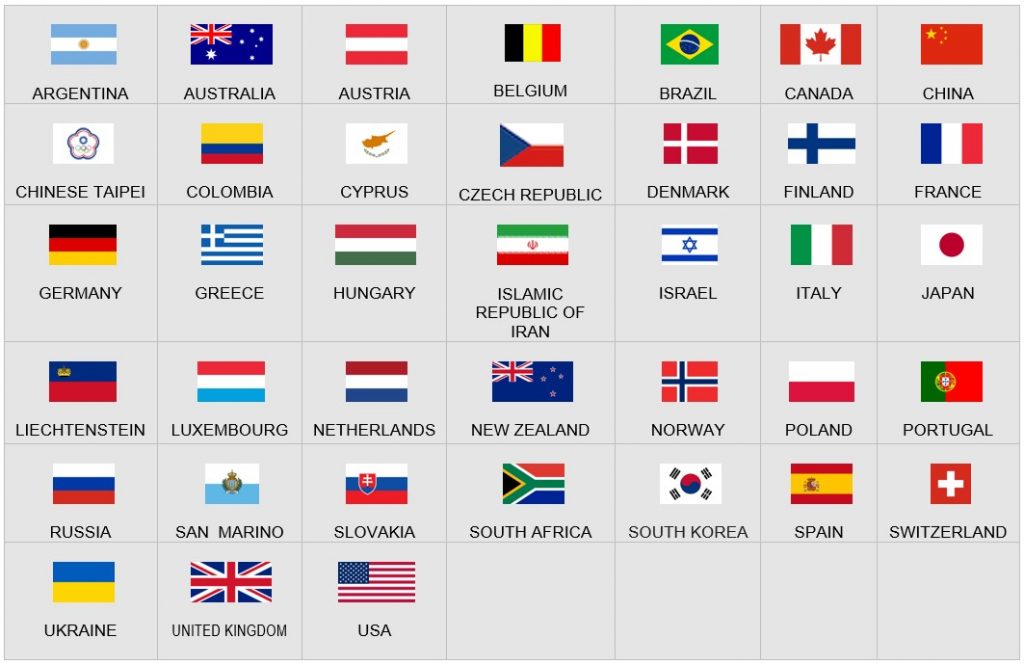 GRAN PRIX F3A FIAM (26/27/28 Luglio 2019)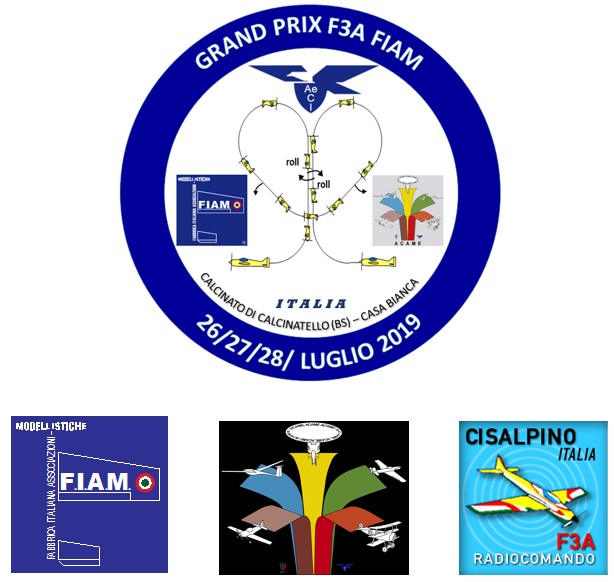 All Italian and international model aircraft F3A enthusiasts can participate (also those without a FAI licence, but who have a valid insurance) up to a maximum number of 50 (fifty) participants.
This is an important occasion for those who wish to experience three special days in contact with the best international pilots and judges who, soon after, will be the protagonists of the 31st F3A World Championship.
Consequently there will be the opportunity to use the same organization and breathe the same air as the World Champions.
This is an incredible and unrepeatable occasion to perfect flying technique and admire first-hand the novelties that will soon be used to obtain top scores from the 20 international judges who will be present at Casa Bianca.
Let us not forget that there will also be the opportunity to make new friends in this particular location where the best pilots in the world will be present.